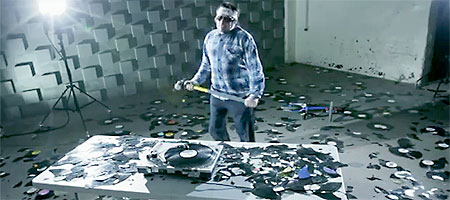 The horror….the horror of it all! How could humanity allow a crazed DJ, armed with a sledgehammer and an assortment of other wrecking tools to be let loose on precious vinyl? It makes no sense.
But wait. before you all form an online movement akin to KONY to stop this wanton vinyl vandalism, it seems that this is in aid of a good cause – Dance Aid. As you were people. Order can now be restored.
Make sure to catch him and a huge lineup of DJs, including Hoxton Whores, Matt Jam Lamont and Jumping jack Frost, as we attempt to break the DJ Relay world record on the night. All proceeds go to the One Life charity.
Get your tickets now from Dance Aid.