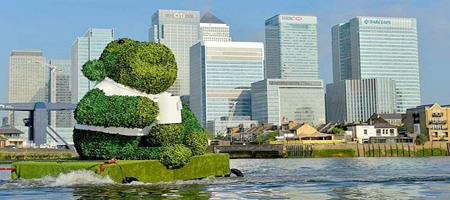 You imagine that people who live in London, UK are used to some strange and curious sights—much like most people who live in large cities, weird stuff just happens.
But they're probably not used to the sight of a giant green monkey floating down the Thames, the river that flows through the city.
Sure, there might have been giant flying pigs floating over Battersea power station in the 1980's (for a Pink Floyd LP cover), but never a giant monkey. Never!
However before you start running for the hills and worry that a seasick King Kong has taken over London it's actually a sculpture of a monkey, one made from over 100,000 tea leaves.
The piece was made by PG Tips Green Tea as part of a campaign to energise commuters on their way to work and Londoners going about their business. And boy did it turn some people scratching their heads in disbelief.
The sculpture comes as the tea company published a "green paper report" that studied the working patterns and downtime of 2,000 people. It found that seven in ten feel overworked and stressed out and they're not taking enough breaks throughout the day.
Then when they do take a break, they end up doing admin or browsing online, never really getting some proper downtime. And all this build-up is taking it's toll. The average worker makes three mistakes every week, more than 150 a year, because of tiredness, according to results.
So next time work gets too much and you need a break, even if you can't get away from your desk, just think of that giant tea monkey heading down river and feel yourself relaxing and your troubles floating away.
Just like the monkey.