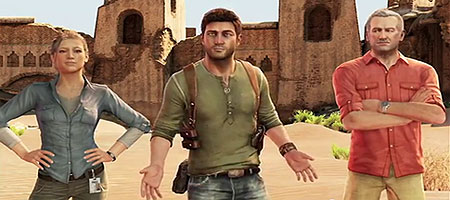 Ever played Uncharted? Well, now you can win the chance to meet the creators of the PlayStation® game Uncharted and create your own in-game multiplayer character for Uncharted 3.
All you have to do is audition and prove you are as good as Nathan Drake. Impress the judges and you go in the running for the final prize!
Check it out here – http://www.theunchartedaudition.com/uk
it's a pretty immersive game, with real mystery and location and characters that you love and hate. It's a bit like 'playing' inside a film that's unraveling. What you might not know is that the characters you see in the game are played by real actors, acting out the scenes whilst being motion captured. Their movements and facial expressions are taken and animated by the team at Naughty Dog's studio where Uncharted is made:
The action heroes of video games are no longer just drawings and pixels, with motion capture your favourite PlayStation® game characters come to life using real actors. Watch to hear from Nolan North and Emily Rose who play Nathan Drake and Elena, about where they draw their inspiration from to play their characters.
Go behind the scenes at Naughty Dog's studio where they created Uncharted for PlayStation®, and see what inspired the cast and crew including writer and creative director Amy Hennig, to create the most cinematic video game experience ever made.
Uncharted wouldn't be possible without the cutting edge cinematic technology and creative genius available at PlayStation® and Naughty Dog. Meet the technical experts behind the game and hear what it takes to get from the motion capture studio to the finished product.
For more information around this event check out these links to Facebook and Twitter