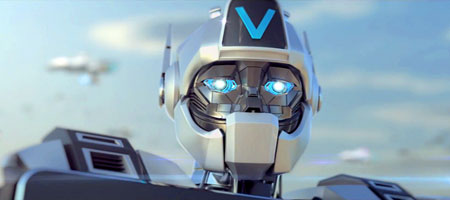 Robot technology has just taken one step closer to becoming reality, the next gen of SSD cards has arrived and, according to this video, it can turn into a robot, travel the world at incredible speeds and charm the pants of any woman. But maybe those last three should be taken with a pinch of salt.
Oh yeah, it can also run your computer pretty damn fast as well, but that doesn't seem too much of a biggie for the new Samsung 850 Pro.
Introducing Victo the robot, powered by SSD 850 PRO with 3D V-NAND, the first SSD available to the consumer that uses Samsung's 3D V-NAND technology, which stacks memory cells vertically. What does that mean? Well it means you get greater capacity, speed, endurance, and more effective power usage.
It means that SSDs can continue to follow the trend for higher performance while remaining reasonably priced. 3D V-NAND tech can copy data at twice the speed while using only half the power of its predecessors.
SSD cards are measured in nanometres (nm), and while most of Samsung's competitors are getting thinner, heading towards 16nm, Samsung has gone with 40nm for the 850 Pro. Which makes it tougher—it comes with a 10 year warranty!—far exceeding other SSD cards on the market. It also has 150TB of total bytes, the highest for any consumer SSD.
So if you are looking for an ultra-fast computer and something that might start making a play for your girlfriend when you are not around then this could be what you need.
For the full lowdown on this world-leading SSD and to see how highly it performed in tests, take a look at Extreme Tech's comprehensive review.